Melbourne's Costume Hire & School Production Specialists
Costume Hire for Schools
Huge range of costumes, wigs and accessories to hire or buy for your school's production!
Over 1000 costumes especially for school shows
Kids and adults sizes (xs to xxl)
Group discounts
Alterations and custom designs available
Wigs, props and jewellery too!
Previous Clients
Previous schools to benefit from the service and experience of Amazing Transformations include:
Chairo Christian School – Drouin Victoria
"Amazing Transformations has been a fantastic supplier of costumes for us. The staff are always helpful and have intimate knowledge of most shows. When required Amazing Transformations have sent extra items to us overnight without drama."
Great Ryrie Street Primary School – Heathmont Victoria
"Amazing Transformations transported the Year 5 & 6 teachers into the Gold Rush. It was an exciting and authentic ending to our history unit!"
Amazing Transformations has also been associated with the following school productions supplying costumes:
A Midsummer Nights Dream
Aladdin
Alice in Wonderland
Amadeus
Annie
Anything Goes
Beauty and the Beast
Bye Bye Birdie
Calamity Jane
Grease
Jack and the Beanstalk
Joseph and His Amazing Technicolour Dreamcoat
Oklahoma

Oliver
Pantomimes
Pinocchio
Pirates of Penzance
The Billabong Prank
The Bishop's Candlesticks
The Lion, The Witch and The Wardrobe
The Rock Eisteddfod
The Sound of Music
The Wiz
Twelfth Night
Viva Mexico
Email Us Today
Please enter your details below to contact us via email.
School Production Gallery
Annie Orphan
Annie Orphans - its a hard knock life
The Sound of Music - Sailor Costumes
Grease - T Birds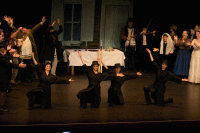 Fiddler on the Roof - Bottle Dance
Beauty & The Beast - Transformations
Pirates of Penzance
Spamalot
Spamalot ensemble
Visit our costume hire shop: